My day-to-day is a full face of makeup while I work with people. A full face of primer, foundation, concealer, highlighter, blush, brow powder, eyeshadow and all those other things I lob on to my face for work. It's my uniform. Every once in awhile my skin gets congested or I get super sick because I work with people all day.
This is one of those days. My coughing is relentless, I can't hear out of my ears, and I am drowning in mucus. Not to mention how much my body aches…
So I thought it'd be the perfect time to share my detox favorites for face and body because taking care of yourself is important.
FACE
The face is important. My job depends on my face. It's my bread and butter. I have to take care of it.
First thing I do (end of the day or beginning of the day) is double cleanse. I use two cleansers. The first one is MD Complete Restoring Cleanser.
It is gentle and I only need a dime size amount to remove everything including my mascara. You can get it at most drugstores and on Amazon for $12 to $14.
The next cleanser I use is Pacifica Rose Kombucha Flower Powered Face Wash.
This tones up my skin nicely and smells great. It's super gentle and makes my skin feel nice and healthy. You can purchase it online or at a local Target for $10.
Once my face has been cleansed; it's time to exfoliate. Those dead skin cells and whatever else remains of the day has to go! My favorite exfoliate right now is The Seaweed Bath Co Exfoliating Detox Scrub.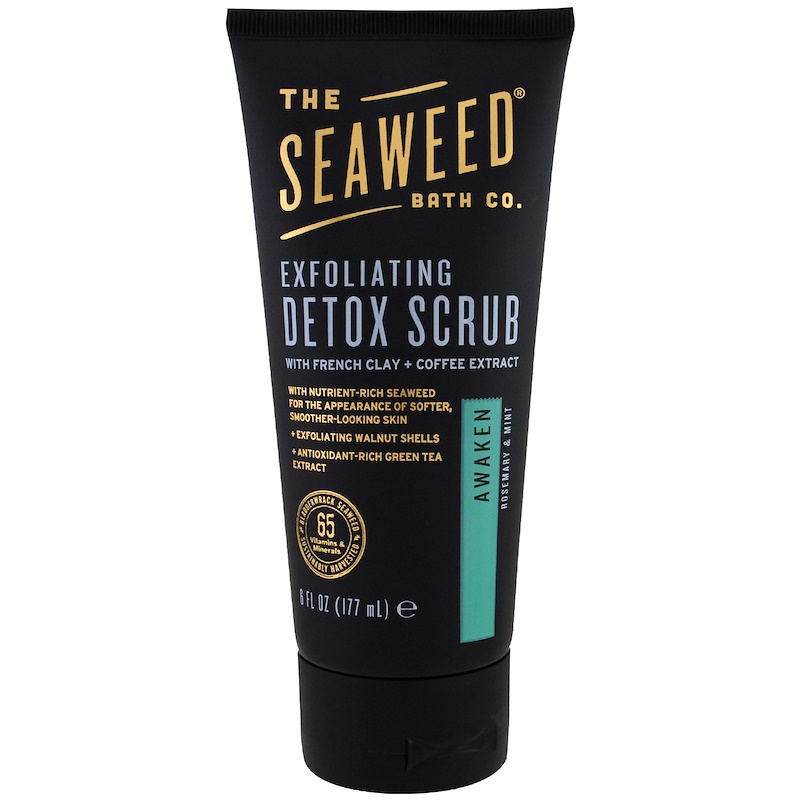 French clay pulls impurities out of your skin while the walnut shells buff off the dead cells. There are different scents you can chose from. Awaken is my favorite. The antioxidants help fight the free radicals that cause damage to your skin and age you. This product can be found at Whole Foods, iHerb, and many other retailers for about $10.
Next I do enjoy a good detox mask and nothing deep detoxes like Aztec Secret Indian Healing Clay.
You mix it with water till it forms a paste then apply a healthy layer to your face. As it dries you can feel it pulsate and pull whatever is under the surface out. I love it. You can also mix it with other ingredients like honey if you need a more moisturizing for still detoxing facial. You can purchase this on Amazon, CVS, and Whole Foods for $10.
My toner is something that I think everyone else knows about but sometimes forget actually works… witch hazel.
Dickinson's is affordable, natural, and works. Just apply some to a cotton round and pat it all over avoiding the eye area. You can even use witch hazel to disinfect cuts that you get or eliminate some of the build up on your scalp. You can get it at most retailers for $5.
Follow up these items with your favorite serum and moisturizer for some well taken care of skin.
BODY
I typically take baths once a week. It helps me unwind after a rough day but when I am sick baths are a once a day thing till I get better.
Oatmeal has always been a part of my bath ritual to help soothe my skin.
Rainbow Research Colloidal Oatmeal Bath and Body Wash is part of what goes in my bath time mix. It's $12 on Amazon and works great for skin irritation as well as dry skin.
The second ingredient in my bath is always Epsom Salt to combat body aches.
Dr Teals is my favorite. There are many different ones to choose from. For detoxing I like the Activated Charcoal and Hawaiian Black Salt Lava. If you just want to detox from the bad vibes then get yourself the lavender scent. There is also peppermint and chamomile. A three pound bag of the activated charcoal costs $10 on Amazon.
The final thing I add to my bath is essential oil just for the aromatherapy. If I am congested then I use eucalyptus so the strong scent and travel up into my nostrils. You can add whatever makes you happy. Orange is a pleasant one or more lavender to help you relax and sleep. Most drugstores like CVS and markets like Whole Foods or Sprouts have essential oils. Don't scream when you see the price! The bottle may be small but you only need a few drops. It will last you awhile.
TEA
Tea is a great medicine. It can help you with detoxing or help you manage stress. My two favorite teas are DeTox and Reishi Mushroom.
The Burdock and Dandelion in this tea help detoxify you from the inside out. I like to drink this when I am sick or maybe after a night of partying. This particular brand of tea has an Ayurvedic blend of ginger, black pepper, and long pepper. You can get it from most markets. Prices vary but they never break the bank.
Reishi Mushroom tea is another one of my favorite detox teas.
The Reishi Mushroom has antioxidants that help boost the immune system. This tea also has dandelion and burdock root that are supposed to help the liver get rid of toxins. It tastes good because of the cocoa which makes it smooth. I usually drink this before bedtime.
These are my detoxing favorites that almost always help me feel better. I highly suggest them.