Joah Cosmetics is new and exclusive to CVS and I've finally had the chance to try a few items. I wore them during my 12hr shift at work yesterday.
The first thing I want to talk about is the Glow Activator Radiance Primer.
It looks like a possible cruelty-free dupe for the Guerlain primer that costs $74. This one is $9.99 but doesn't have as many 24k gold flakes in it like Guerlain. This primer is supposed to make your skin smooth, weightlessly moisturized, and make your makeup last longer.
I don't like the texture. I really don't. It feels super oily with no thickness to it whatsoever. My pores weren't filled in at all and I really didn't look any more radiant. Now I do think someone with dryer skin than I would like this as long as they put on a bit of moisturizer before hand. This would probably really seal in that moisture but the pores would be extremely visible.
It just isn't for me.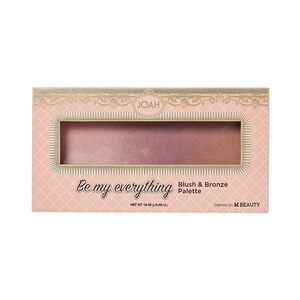 The next product I want to mention is the Be My Everything Blush & Bronze Palette. It retails for $13.99 and is a weird little palette. Online it looks really nice. You can clearly see the highlighter, blush, and bronzer. In person its all blended together. There is hardly anything dividing the colors and it looks all mixed together when its supposed to be an ombre sort of product.
The powder feels nice but its really just a bronzer palette with slight shimmer. It isn't even that deep of a bronze either. I tried each section separately and then together but there was no difference. No clear blush or highlight. The only apparent product on my face was the bronzer since I looked a little more framed than usual.
So my opinion is that this palette is meant for someone who is new to makeup, worries about making mistakes, and hasn't really played with bronzer before. There is just too little pigment in this product for someone like me.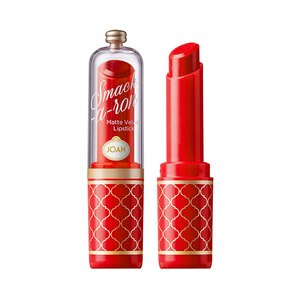 Now I know I have been pretty negative about the products so far but this one will make up fo it. The Smack-A-Ron Matte Velvet lipstick is awesome. Its $5.99 and wears like a prestige product.
It doesn't dry out your lips and it goes on smoothly. You don't need a lip liner either.
I really only have one complaint about this product and it is the smell. It smells like plain hand soap and not even the fancy stuff. The smell isn't so bad that it prevents me from wearing the product but it disturbs me a little.
I put it on at the beginning of my shift and I didn't need to touch up at all. It stayed in one place. There was no bleeding effect. The color is beautiful and super pigmented. I am wearing the shade "Red Velvet".
Finally the last thing I tried was the Eye Scream Ultra Volume Mascara.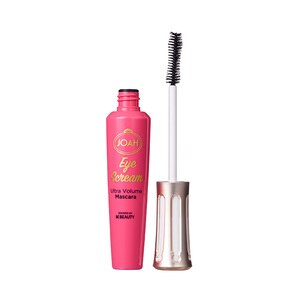 I liked the brush shape and I thought it might end up being a great affordable dupe for my all time favorite Better Than Sex. I had seen on one of GlamLifeGuru's videos that she liked the one she purchased. It retails for $5.99 and it really isn't worth it to me at all.
There was no volume being built at all. I found it to be a waste of time and only gave me definition which is upsetting when you buy a mascara thats supposed to be "Ultra". It's as if the formula was watered down too much which I can understand if you don't want to deal with a lot of clumps.
This mascara isn't for me. I think its meant for someone who wants like the smallest little bit of volume whereas I want all the volume ever.
Joah Cosmetics is super affordable and I look forward to trying more products from their line. It is just a little disappointing that these didn't work out for me. They might work out for you though.